Three Piece Mar-crest Starter Set
Mar-crest Daisy and Dot Pricelist
Original Mar-crest Daisy and Dot order form
Mar-crest.com is an informational web site devoted to Mar-crest Old Fashioned Stoneware that was produced from the 50's to the early 60's. Collectors refer to the pattern as Daisy and Dot, the glaze finish (color) as Warm Colorado Brown and the style (motif) as Pennsylvania Dutch. Besides the daisy dot pattern, the rare, pastel pieces are much sought after by serious collectors. Before you leave, I hope you'll check out some of the great Mar-crest images found on nearly every page. Many of these pictures were donated by fellow collectors. The rest are from my collection.
Some history: In 1906, 7 potteries merged together to form the Western Stoneware Company in Monmouth, Illinois. They were: Weir Pottery, Monmouth Pottery, Macomb Stoneware Co., Macomb Pottery Co., D Culbertson Stoneware Co., Clinton Stoneware Co. and the Fort Dodge Stoneware Company. Western Stoneware produced the Warm Colorado Brown daisy dot line of Marcrest dinnerware (and maybe some of the pastels as well). They closed their doors in 2006 after 100 years of operation, but quickly re-opened, thanks to 3 original employees.
According to some, Louise Bauer (designer of the famous Hull Little Red Riding Hood line) designed the daisy and dot pattern. Hull is said to have produced the pastel colored pieces: ball pitchers, teapots, tumblers, plain cups and oblong ashtrays marked Marcrest. Read more about my understanding of the Hull / Mar-crest connection on this page.
---
You may find recent Mar-crest values in the Garage Sale & Flea Market Annual Seventeenth Edition (March 2009, by Collector's Books). It was an honor to once again be the price guide contributing advisor for Mar-crest daisy and dot dinnerware. The book was a sell-out, and was the last edition of the series. You can find a copy for sale on the internet from time to time.
Mar-crest Colorado Brown Oven-Proof Stoneware was available at Safeway, A & P, IGA, Loblaws, Jewel Food Stores and Kroger grocery stores half a century ago (and possibly through Top Value Stamps, as well). Were there other stores that sold Mar-crest? Was it advertised or seen in any magazines, movies or commercials?
Was Mar-crest a premium or give-away, available in movie theaters (dish night) and Western Auto's? I haven't spoke with anyone that recalls this firsthand. In the reading I've done the past several years, dish night at the movies was when a piece of china was given away to movie-goers to boost attendance during the war. Depression glass and Fire-King have been named. I do not believe that daisy dot Mar-crest was a part of those give-aways.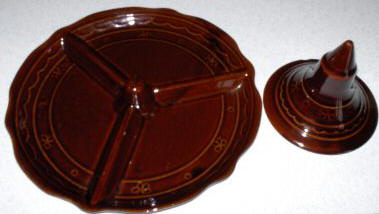 Rare scalloped lazy susan. Photo courtesy eBay seller 2001jmm
If you've ever searched "Mar-crest" on the internet, you've probably noticed something. Much of the information seems to have obviously been copied (often slightly reworded) from only a couple of informative web sites. Sometimes, this rewording has gotten pretty far away from the facts.
Have you seen online auctions showing Mar-crest carafe coffee servers with round cork stoppers or copper lids? Mar-crest beer steins with dome shaped lids? Mar-crest pitchers with lids being called coffee pots? Mar-crest escargot skillets? Bundt pans? Ladles? Egg, butter and covered cheese dishes? Loaf pans or candleholders? This has to be confusing to new collectors, as they were never produced.
Many potteries in the 50's and 60's made pieces that looked similar to Mar-crest. Through the years, odd lids (and casserole stands) have ended up on pieces they did not originally belong to. Oftentimes, the seller is not the original owner, and may think it's a perfect match if the lid seems to fit, and it's similar in color. If you have any doubts about the correct lid (or stand) for a Mar-crest piece, visit the Pictures page on this site and compare. If there's an item you question being Mar-crest, send me a message.
Rare Mar-crest daisy and dot Well 'n Tree style meat platter. Photo courtesy eBay's martymorgan.
Mar-crest stoneware has rapidly regaining popularity in the past few years. Several online sellers are identifying their assorted brown glazed stoneware pieces as being Mar-crest. Maybe they aren't very familiar with Mar-crest? Or they do know, and are trying to pass off odd pieces as being rare or hard to find Mar-crest items. Many of these pieces are actually Pfaltzgraff, Hull, Hall, McCoy, Kathy Kale, California Pottery, etc., all of which have many Mar-crest similar pieces. Learn to know the difference.
Would someone purposely misidentify a piece of pottery and call it rare and hard to find, attempting to fool a new collector? Sad to say, but it does happen (and not just with Mar-crest). That's why it's important for collectors and buyers to become familiar with what Mar-crest looks like. Know the various sizes and measurements. Pay close attention to the lid, making sure it's the correct one. If the rim of a Mar-crest "bowl" is unglazed, that means a lid belongs on the piece, and it is not a mixing bowl.
ALERT: Pictures on this website have been copied (without permission), and are showing up on several online auctions daily. Why aren't these sellers using their own pictures? (Using others online pictures without permission is not allowed for many reasons.) Auction companies make it clear that sellers are to write their own descriptions and use their own pictures. Image theft and text theft is NOT allowed.
Why? The seller may have similar items for sale, but the condition could be very different. And usually, not in a good way. Would you want to do business with a seller that ignores these rules (that are in place for a reason - to protect the buyer)? What does it say about sellers who choose to ignore the rules? Would they be trustworthy? They usually say that their camera is broken or they don't have one yet, or that the item is not in their possession because they are selling pieces for a friend or relative. Don't fall for these common excuses. Buy from either a trusted seller you have done business with before, or one that has very good feedback. Happy hunting!
Rare Mar-crest 2 piece Lazy Susan
Part of my Mar-crest daisy and dot collection
"I love your site! My husbands Uncle just passed away and he used to work at Monmouth Pottery years ago. As we were going through his things I brought home a cookie jar and large pitcher. I decided to google it and found your site. I had no idea it was even made in Monmouth. I just liked it because my Grandma used to have ones just like them. I really love the pieces I saw on your site with the pink interior….I think I have been bitten by the collecting bug!" D. Hickerson Little York, IL
---
"I found the 10 inch divided vegetable bowl in cleaning out my Dad's house. I remember my Mom getting the dishes from the A & P when we lived in Milwaukee WI. The same store they use to grind her coffee at the register. This was in the early 1960's." Tara F. in Eugene, Oregon
---
"Hello. I just started my collection and I did so with the Grease Jar and Cover that my mother had. I now have about 32 pieces added to my collection and I enjoy the hunt for them. I really did not know what I was buying until I stumbled upon your web-site. Thank you for your information." Azzy in Mercedes, TX
---
"My wife and I have used a Mar-Crest banded brown glazed mixing bowl for 20 years. Beautiful, durable and useful. I bought a small 5 inch bowl to go with a couple years ago.

Nifty web site with lots of information and pictures. Thank you. I saw the site and Rita mentioned in Collectors News [Magazine, April 2008 edition]." Brian in Indianapolis, IN
---
"Mostly I wanted to praise your work here. It is great to see an informative and honest approach! I have only recently started collecting and have really benefited from the information you have gathered here. I know it for the love of the pottery that you do it and really shows. I hope to learn enough and grow my collection enough to have something to contribute one day. Keep adding to it!" Charlene in Bend, OR
---
"Just happened on to your site. Wow! Very informative and visual! Thanks for all the info...I have many pieces that have been ignored but now will clean up and cherish...!" Julie in TX
---
"... I am delighted to see that other have the same passion for this pottery that I have. I currently have over two dozen peices of my beloved stoneware and I am a faithfull collector. I have been collecting for years and am very excited to see your site. Thank you for enjoying this as much as I do!"... Martha in MI
---
"Hi, I just want to thank you for your informative site to stoneware that I stumbled across while doing a web search. :o) I recently bought a lidded piece at the goodwill for $2.99, and had no idea what it was. After reading your information, I now know it is a daisy dot lidded french handled casserole dish! I love it!... You have some lovely pieces. Thanks again...!" Janice in OR
---
"I looked at your web site and am impressed. I started collecting in the early 50's....Thank you for brightening my day with your web site. Martha." Martha in TX
---
"I am really excited about your website. I used to check out J T Letowski's website [Marcrest Man] for Marcrest, in fact many of the pics on that site are mine, taken from my collection quite a few years ago. Much of my collection is now in boxes in bedroom closets and under beds, and even in the garage. I keep out about 100 pieces on the "Marcrest Wall" in the kitchen. I am also excited to see how many unique pieces on your site that I have never seen before...I wonder when the last unique piece of Marcrest will be found!" Joe in GA
---
"I wanted to tell you this was sold in greater Harrisburg by J C Murphy's 5 & 10(I saw them in the Camp Hill Store) in the early 1960's -- I am old enough to remember them when they were new!!!" Carol in PA
---
Copyright © 2005-2020 Rita Pence. All rights reserved.
Website powered by Network Solutions®